California Earthquake : Earthquake shakes parts of California during storm
BBC- As people across Southern California sheltered from Hurricane Hilary; another natural disaster hit – a magnitude 5.1 earthquake.
Its epicentre was northwest of Los Angeles and #hurriquake was soon trending on social media.
It did not cause major damage, and the hurricane has also since been downgraded to a post-tropical cyclone.
Los Angeles Mayor Karen Bass said over 100 fire stations were checking buildings for damage.
Ms Bass said in a tweet. that there were no initial reports of structural damage caused by the earthquake or any injuries.
---
READ MORE : Heavy rain in Germany causes flooding and leads to flight cancelations in Frankfurt
Seismologist Dr Lucy Jones told NBC news it was "interesting" to have the earthquake near Ojai, and was the "first time we've had a five since 1932 in exactly this location, and even within the Ventura basin".
She warned more aftershocks were likely over the next few days.
The quake hit at the same time as post-tropical cyclone Hilary, which left many residents unsure where they should seek cover.
BBC News reporter Regan Morris said she was walking her dog when her phone's emergency alert system went off.
One of her neighbours ran out of his house in a panic saying he didn't know where to go and she could hear other people shouting inside their homes as the quake struck.
Another video from inside a supermarket showed items fall from the shelves as the quake struck, as a man ran with his daughter from the shop.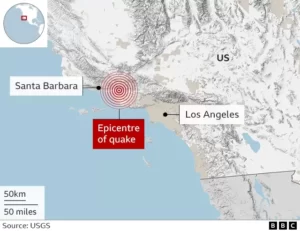 Meanwhile, the National Hurricane Service said the "ongoing and historic" amount of rain caused by the storm was expected to cause life-threatening to locally catastrophic flooding, as well as other issues like mudslides and landslides.
California Governor Gavin Newsom declared a state of emergency across most of Southern California, with more than 7,500 troops deployed to help people prepare for the storm.
Residents in San Bernadino county were evacuated due to the intense rainfall, and the National Weather Service warned of life-threatening flooding in Ventura county after almost two inches (five centimetres) of rain fell within two hours.
Videos shared to social media by San Bernardino county showed rain water wash rocks onto roads, as trucks drove through the mud.
Heavy rains in Southern California — brought on by Tropical Storm Hilary — have caused roads to flood in some parts of the region. #HeavyRain #California #CaliforniaNews #earthquake
📷ABC NEWS pic.twitter.com/0jyeGuzEtS

— Diplomat Times (@diplomattimes) August 21, 2023
Already, the storm has caused heavy rain in areas that are usually arid desert. Experts warned those areas were more susceptible to flash flooding, as the ground would struggle to absorb the water.
That played out in areas like Palm Springs; famously a desert town, which recorded its heaviest hour of rain ever, Mr Newsom said.
Parts of Death Valley, notorious for having some of the hottest temperatures on earth, were also flooded by intense rainfall.
Tropical storms are unusual in the area because dry air, cool water and wind conditions off the coast tend to suppress hurricanes.
CBS News reporter Jason Allen said the storm was "absolutely unprecedented", and many residents were confused by the weather event.
"I was at a station where they were filling up sandbags and one man remarks, 'I live in the desert. I'm not supposed to be doing this'," he told CBS.
There were no immediate reports of significant damage. The Ventura County Sheriff's Department conducted an aerial survey of Lake Casitas Dam, Matilija Dam and the city of Ojai and found no damage.
The hashtag #hurriquake quickly began trending on X following the early afternoon quake.
The earthquake occurred at the same time as a rare tropical storm hit the Los Angeles area for the first time in decades. For the first time ever, Southern California is under a tropical storm warning, and most of Los Angeles County is under a flash flood warning with rain expected into Sunday night.
No tropical storm has made landfall in Southern California since Sept. 25, 1939, when a system lost its hurricane status just before moving onshore in Long Beach. The results were catastrophic.
Millions of Southern Californian's received urgent back-to-back emergency alerts on their phones Sunday — the first indicated a flash flood warning, the second warning of the Ventura County earthquake.