Indiana JonesIndiana Jones 5 : Harrison Ford returns with big 'Temple of Doom' energy
Indiana Jones and the Dial of Destiny opens exclusively in theaters June 30.
DT ENTERTAINMENT–  One of life's simplest pleasures is watching Harrison Ford punch out Nazis.
It was true in 1981 with Raiders of the Lost Ark, and it's just as true now with the series' fifth installment, Indiana Jones and the Dial of Destiny. 42 years later, the best bits of Ford as Indy are charmingly timeless — even with some controversial modern innovations. But how does the rest of this polarizing sequel stack up?
Out of the film's world premiere at the Cannes International Film Festival, the buzz was mixed to bad. Rumbles of displeasure arose over the opening sequence, in which the 80-year-old actor is made to look decades younger using CGI. Some critics lamented that this rollicking franchise had gone off the rails without the guidance of Steven Spielberg, who'd helmed the first four films — including the controversial 2008 offering, Indiana Jones and the Temple of the Crystal Skull.
---
READ MORE : Foo Fighters UK Tour 2024: how to get tickets, presale, potential setlist and full list of stadium dates
Still, I was hopeful as I walked into the press screening for Indy 5. Ford was back in the fedora, this time with brazenly witty Phoebe Waller-Bridge by his side as a sure-to-rile dame of adventure. Mads Mikkelsen, who's made a career out of playing complicated anti-heroes and downright chilling baddies, is on board to antagonize.
Sure, Spielberg was out, but director James Mangold brought us the glory of Logan, an action movie whose gruff but lovable hero doesn't feel so different from an archaeologist who leaps from libraries to sacrificial volcanoes in a single act. Also, I had it on good authority that Harrison Ford punches Nazis in this.
I'm pleased to report that Indiana Jones and the Dial of Destiny is a wondrous return to form for this franchise, as well as a wildly entertaining film fit for the whole family. Plus, he totally punches Nazis.
---
What's Indiana Jones and the Dial of Destiny about? 
The movie begins with a cold open set in the end days of World War II, where Indy (a digitally de-aged Ford) is racing through a train FULL OF NAZIS to recover priceless artifacts from the greedy, careless clutches of Hitler's regime. During his high-octane escape, he not only makes a new enemy in a Nazi physicist (Mikkelsen, naturally), but he also comes across half of Archimedes' dial, an ancient device believed to be able to predict future calamity.
Cut to decades later, and Indy is not racing much of anywhere anymore. He's snoring in his underwear in a cluttered Manhattan apartment in the 1960s. His next great action will be grousing at the damned youths who are blasting music nearby, celebrating "Moon Day," as American astronauts return to the Earth. This Indy is old and bitter, and he wants you off his lawn.
Though he married Marion (Karen Allen) at the end of Crystal Skull, she's nowhere to be seen in the first act. Indy's days as a professor seem to be coming to an inauspicious end. No more do students clamor for his attention or flutter their eyes with secret messages of love. They sleep. They stare blankly. Maybe it's best he's retiring? But before he can hang up his hat, his long-estranged goddaughter Helena (Waller-Bridge) saunters into his classroom, bringing with her a squad of enemies, including government agents and a familiar foe who's become a friend to America through his aid to the space program. (Wink wink.)
Of course, now Indy must race to recover the rest of the dial before it falls into the wrong hands.
---
Dial of Destiny has big Temple of Doom energy. 
Yes, yes, some Indy fans loathe that third film, which swapped the headstrong Marion for the hysterical showgirl Willie (the hilarious Kate Capshaw) and gave Indy a wise-cracking child sidekick in Short Round (Oscar-winner Ke Huy Quan). Personally, I liked the sharp contrast between Indy and the glamor girl, spiked with their grousing banter. I appreciated the pluck of the boy adventurer and was in awe of the shocking spectacle of every bit. And Dial of Destiny gives us a refreshed version of the dynamic, minus its most problematic elements — like the xenophobic cringe at other cultures and the titular hero's arguably misogynistic energy toward his supposed love interest. Plus, parents may be pleased to learn there's nothing here on par with the body horror of past installments.
Screenwriters Jez Butterworth, John-Henry Butterworth, David Koepp, and James Mangold smartly adjust, considering changing attitudes toward gender dynamics. Helena is not a May-December romantic interest but almost a rival; she pushes back on Indy while searching for the mighty McGuffin toward her own end. She quips, he bristles. It's enthralling.
---
Harrison Ford is as good as ever as Indiana Jones.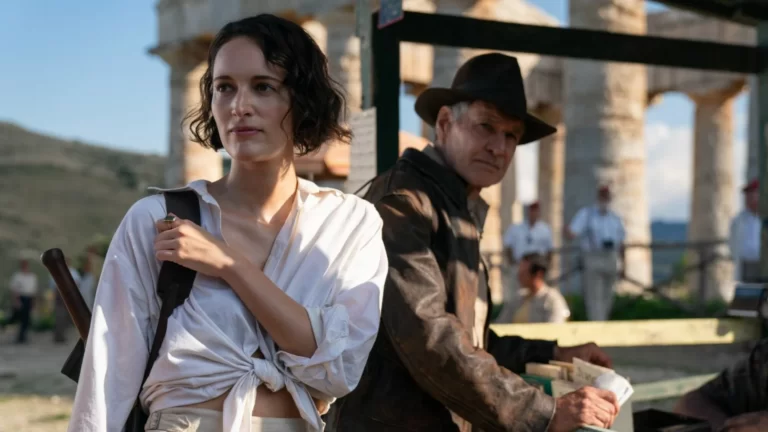 For what it's worth, the CGI version of younger Ford wasn't jarring to me. Occasionally, a bit of lighting fell strangely across his face, but it was never that distracting. This franchise was built on special effects that pushed the boundaries, from melting skulls to hearts plucked from chests. A romanticization of practical over visual effects might account for the derision towards the opening scene, but behind the CGI wizardry, it's still Harrison Ford. And he's still punching Nazis!
It's fun to see Ford back in action in this old-school mode. However, the '60s-set sequences unlock an exhilarating new layer to the character. Indy is not invincible. He is older, slower, and harsher than before. Ford and Mangold show us a hero who fears the world has moved past him. And perhaps they're asking us if we relate. While everyone else is looking to the future and to space, Indy is looking back to the past. But in Helena and Teddy, might he rediscover the present?
Follow Us: Facebook | Instagram | Twitter | Youtube |
Source : mashable