International Peace Corps Association Chairman Dr Park courtesy calls on Kenyan High Commissioner H.E. Amb. Francis Muhoro
Diplomat Times (Kuala Lumpur) – Members of the International Peace Corps Association, an international organization working for peace and human rights, met the High Commissioner of Kenya in Malaysia today.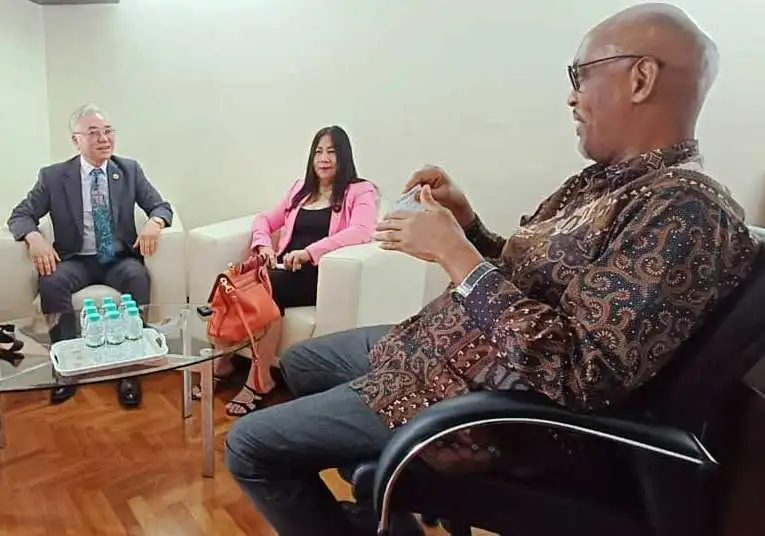 International Chairman of IPCA Dr. Park held talks with him on a wide range of topics, especially Kenya's cooperation with the United Nations towards peace and human rights.
The High Commissioner, Amb. Francis Muhoro spoken that Kenya is UNSC member since 1963 and serving continually.
---
READ MORE : America International University Chancellor Dr Park Met with Guinea Ambassador in Malaysia, discussed about education
ABOUT KENYA AND MALAYSIA RELATIONSHIP 
Nairobi and Kuala Lumpur established diplomatic relations in 1965. Kenya established its resident mission in 1996, while Malaysia established its resident High Commission in Nairobi in 2005.
Speaking on bilateral trade between Kenya and Malaysia, the High Commissioner said the growth was very positive as it increased by 81 per cent in 2021.
"There are more and more Malaysian companies and businessmen who have expressed immense interest in setting up businesses in Kenya. Kenya is also looking to diversify its market base for its exports," he said.
Replying to a questions on what new areas of cooperation both countries could explore further, Muhoro pointed out that Kenya and Malaysia have high potential to enhance cooperation in Information and Communications Technology (ICT), renewable energy, blue economy and environmental protection.
"It is imperative to note that Kenya is a host to the only United Nations (UN) head office in the global South, United Nations Environmental Programme (UNEP). On this front, Kenya will be pursuing enhanced cooperation with Malaysia to strengthen the UN headquarters in Nairobi," he further said.
---
When Kenya Becomes UNSC Member ? 
Kenya became a member of the United Nations on 16th December1963 and has since then served on the Security Council 1973-74, 1997-98, and 2021-22.
The Kenya Mission at the United Nations is one of the highly respected missions in New York and plays a significant role in the promotion and implementation of the United Nations mandate. The Kenyan Permanent Representative to the United Nations Ambassador Martin Kimani and his team of distinguished Kenyan officers have played, and continue to play, the following critical roles at the United Nations.
The Kenya Mission to the United Nations serves as the Kenya delegation to the United Nations. Through diplomacy, negotiation, lobbying and daily monitoring of UN activities, the Mission's main objective is to advance Kenya's interests at the United Nations in critical areas namely: political, economic and social as well as legal, military, public diplomacy and management interests.
The Mission covers a wide range of the Ministry's Foreign Policy objectives, from peaceful resolution of disputes to protecting the environment as well as promoting sustainable development. The Mission externalizes Kenya domestic policies in a wide range of thematic issues and areas of interests to the country.
The Mission conducts multilateral and bilateral relations with representatives of the 193 UN Member States, over 30 Observer Missions, many Non-Governmental Organizations with observer status and the United Nations Secretariat, which serves member states. It also works with UN Funds and Programmes such as UN children's fund (UNICEF), the UN Developmental Programme (UNDP), the UN Gender Entity on Women (UN Women), and the UN Population Fund (UNFPA) amongst others.
The Kenya Mission implements the Strategic Plan of the Ministry of Foreign Affairs from which it implements specific multi-lateral mandate based on an annual performance contract it signs with the Ministry of Foreign Affairs (MFA).
This means that the Mission in New York promotes the same Mission, Vision and Core Values as contained in the MFA's current Strategic Plan and its Service Charter, although, the service charter is adapted to the specific roles and functions of the Mission and its circumstances.