1. North Korea claims 'radioactive tsunami' weapon test at sea
SEOUL, South Korea (AP)— North Korea claimed Friday to have tested a nuclear-capable underwater drone designed to generate a gigantic "radioactive tsunami" that would destroy naval strike groups and ports. Analysts were skeptical that the device presents a major new threat, but the test underlines the North's commitment to raising nuclear threats.
The test this week came as the United States reportedly planned to deploy aircraft carrier strike groups and other advanced assets to waters off the Korean Peninsula. Military tensions are at a high point as the pace of both North Korean weapons tests and U.S.-South Korea joint military exercises has accelerated in the past year in a cycle of tit-for-tat responses.
Pyongyang's official Korean Central News Agency said the new weapon, which can be deployed from the coast or towed by surface ships, is built to "stealthily infiltrate into operational waters and make a super-scale radioactive tsunami through an underwater explosion to destroy naval strike groups and major operational ports of the enemy."
---
READ MORE: North Korea says it launched ICBM to warn US, South Korea over drills
The North Korean report came hours before South Korean President Yoon Suk Yeol pledged to make North Korea pay for its "reckless provocations" as he attended a remembrance service honoring 55 South Korean troops killed during major clashes with the North near their western sea border in past years.
"The mission of the underwater nuclear strategic weapon is to stealthily infiltrate into operational waters and make a super-scale radioactive tsunami through underwater explosion to destroy naval striker groups and major operational ports of the enemy," the KCNA report said.
The KCNA report said the weapon has been in development since 2012 and has undergone more than 50 tests in the past two years.
---
READ MORE : North Korea warns US against shooting down its missile tests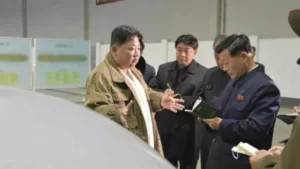 This week's test "verified its reliability and safety and fully confirmed its lethal strike capability," the KCNA report said, adding the drone can be deployed from any port or towed by a surface ship to begin its operations.
Analysts poured doubt on North Korea's claims.
"Pyongyang's latest claim to have a nuclear-capable underwater drone should be met with skepticism" because North Korea offered no proof, said Leif-Eric Easley, associate professor of international studies at Ewha Womans University in Seoul.
Writing on social media, Ankit Panda, a nuclear policy expert at the Carnegie Endowment for International Peace, said: "I tend to take North Korea seriously, but can't rule out the possibility that this is an attempt at deception/psyop."
"Would be ill-advised to allocate limited fizmat (fissile material) for a warhead to go in this thing, IMO, vs. more road-mobile ballistic missiles," Panda added.
The idea of an unmanned submersible carrying a nuclear warhead is not unique to North Korea.
Russia claims to have developed the Poseidon torpedo, a submarine-launched, nuclear-powered unmanned underwater vehicle capable of carrying both conventional and nuclear munitions. Its nuclear propulsion system would give the Poseidon virtually limitless range.
But Russia has offered no proof of a successful test of the Poseidon and analysts suspect it could be years from deployment.
North Korea's purported new underwater weapon has important differences from the Poseidon.
It is conventionally powered and is not launched from a sub, meaning it would not be on a par with the Russian torpedo, the analysts said.
North Korea Missile tests
North Korea's drone test claim comes at the same time Pyongyang said it tested nuclear-capable cruise missiles this week.
Four of the subsonic missiles hit targets in the East Sea, also known as the Sea of Japan, after flying oval and figure-8 patterns of 1,500 and 1,800 kilometers (932 and 1,118 miles) on Wednesday, KCNA reported.
Wednesday's drill "let strategic cruise missile units get familiar with the procedures and processes for carrying out the tactical nuclear attack missions," the report said.
Disclaimer: This report is auto generated from the CNN news service. Diplomat Times holds no responsibility for its content.