Prime Minister Modi congratulates Anwar Ibrahim Malaysia's new prime minister
Diplomat Times (Petaling Jaya) – The India has congratulated Anwar Ibrahim on his appointment as the prime minister and described the 15th general election as "a demonstration of the power of democracy".
Buddhist monk, Dalai Lama also wished Anwar "every success in meeting the challenges that lie ahead".
Congratulations Dato' Seri @anwaribrahim on your election as the Prime Minister of Malaysia. I look forward to working closely together to further strengthen India-Malaysia Enhanced Strategic Partnership.

— Narendra Modi (@narendramodi) November 24, 2022
Malaysia is one of the prominent leaders of the Association of South East Asian Nations (ASEAN), together with Singapore, Indonesia and Thailand. All four countries enjoy multi-faceted ties with India, both in the regional and bilateral contexts, while also having a very substantial relationship with China.
On the diplomatic side, India and Malaysia work together to uphold the freedom of navigation and over flights in the South China Sea and elsewhere and to adhere to the UN Conference on the Law of the Sea (UNCLOS). They also display a resolute will to counter terrorism and radicalization. In fact, India admires the Malaysian model of moderate Islam and the success of its de-radicalization programme. The latter may have some relevance to the situation in India.
The people-to-people aspect of the relationship is also significant. A nation of 28 million, Malaysia is home to a nearly two million-strong Indian origin community that accounts for 7% of the total population. This is rated as the highest share of Indian diaspora in any East Asian country.
Formally, the two nations have an "enhanced Strategic Partnership". India views its ties with Malaysia as a core element of its Act East Policy, Both nations .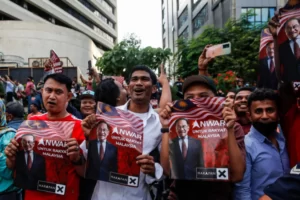 Anwar comes with heavy political baggage and his repeated failure to grasp the reins of the top office over the years had left him vulnerable to being derided as a perpetual "prime minister-in-waiting".
But his backstory has given him a strong base, no matter the odds against him.