Ron DeSantis to make 2024 US presidential bid official with Musk on Twitter
WASHINGTON (Reuters)- Florida Governor Ron DeSantis is expected to make his long-awaited foray into the 2024 presidential race on Wednesday in an unusual manner – at an event with billionaire Elon Musk on Twitter.
His entry changes the shape of the contest for the Republican nomination, as he likely will emerge as former President Donald Trump's biggest rival. The nominee will face President Joe Biden, a Democrat, in the November 2024 general election.
---
READ MORE : Biden to discuss about Ukraine with Brazil's Lula, India's Modi
DeSantis, 44, also plans to file paperwork declaring his candidacy with the Federal Election Commission, aides said.
Musk, the CEO of Tesla and Twitter with 140 million Twitter followers, said his own appearance will not constitute an endorsement but will reflect his desire to make the service more of a town square.
The Twitter event is at 6 p.m. ET (2200 GMT).
DeSantis on Wednesday will also convene a meeting of his top donors at a Miami hotel, where they will immediately launch his fundraising efforts.
DeSantis' central argument for his candidacy likely will be that he is the only Republican who can defeat Biden, the winner over Trump in the 2020 election.
"We must reject the culture of losing that has impacted our party in recent years. The time for excuses is over," DeSantis said at an event in Iowa earlier this month.
In the weeks leading up to his presidential bid, DeSantis has toured the country, visiting states such as Iowa and New Hampshire that will hold early nominating contests. He has boasted of his record as Florida's governor, including his battles with the federal government over pandemic policies.
His decision to wait until now to jump in has given Trump space to batter DeSantis with a series of attacks, costing the governor standing in national polls and frustrating some allies who might have preferred DeSantis step into the ring earlier.
DeSantis and his advisers were determined to wait to enter the race until the Florida Legislature could hand him a series of policy victories – and lawmakers have done just that.
He signed measures that severely restricted abortions in the state, made it easier for residents to carry concealed weapons, expanded a voucher program to allow students to attend private schools, and eliminated funding for diversity programs at public universities, among other things.
DeSantis remains in a pitched battle with Walt Disney Co over the company's criticism of laws prohibiting the teaching of gender identity concepts in public schools. The company has filed a federal lawsuit accusing DeSantis of weaponizing state government to punish its operations.
Other declared Republican candidates include Nikki Haley, former U.S. ambassador to the United Nations, and Tim Scott, a U.S. senator from South Carolina.
---
Background of Ron DeSantis
Ronald Dion DeSantis, born September 14, 1978 is an American politician and former military officer serving as the 46th governor of Florida since 2019. A member of the Republican Party, DeSantis represented Florida's 6th congressional district in the U.S. House of Representatives from 2013 to 2018.
Born in Jacksonville, DeSantis spent most of his childhood in Dunedin, Florida. He graduated from Yale University and Harvard Law School.
DeSantis joined the United States Navy in 2004 and was promoted to lieutenant before serving as a legal advisor to SEAL Team One. He was stationed at Joint Task Force Guantanamo in 2006, and was deployed to Iraq in 2007. When he returned to the U.S. about eight months later, the U.S. Department of Justice appointed DeSantis to serve as a Special Assistant U.S. attorney at the U.S. Attorney's Office in the Middle District of Florida, a position he held until his honorable discharge from active military duty in 2010.
Ron DeSantis Family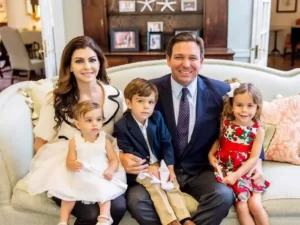 His wife name is Casey DeSantis, is a former newscaster who has helped him refine his public image.
Happy Birthday @CaseyDeSantis! Thank you for being the rock for our family – I love you very, very much! pic.twitter.com/gswzsB33aJ

— Ron DeSantis (@GovRonDeSantis) June 26, 2022
Reporting by James Oliphant; Editing by Howard Goller
Disclaimer: This report is auto generated from the REUTERS. Diplomat Times holds no responsibility for its content.