Who is Casper Ruud whom beat by Novak Djokovic in French Open Final
SPORTS (DT)- Casper Ruud born December 22nd 1998 in Norway. He is righthanded and started playing tennis at the age of 4 and my home club is Snarøya Tennisclub.
He started his professional career in 2016.
When he captured the Osaka Mayors Cup in Osaka, Japan, he started the 2016 season as the world #1 ranked junior. Shortly after he won his first professional title at the Paguera, Spain Futures February 2016.
Casper's first breakthrough on the ATP Tour came in September 2016 when he won his first career ATP Challenger in Seville. With his win, Casper became the 5th youngest player to ever win a Challenger title!
Regarded as one of the best young talents on the ATP Tour, Casper took the tennis world by storm in February 2017 by making the semi-finals of the ATP 500 level Rio Open in Rio de Janeiro. On his way to the semi-finals, Casper beats two top-100 players and held a match point in the semi's against a top 30 player.
---
READ MORE : Novak Djokovic wins his 23rd Grand Slam title by beating Casper Ruud in the French Open final
In 2018 he continues to play the challenger tour with some good results. In the Fall of 2018 Casper and his team starts a collaboration with The Rafa Nadal Academy in Mallorca.
He also qualifies for three grand slams and winning first round in Australian Open and French Open. He ends the year as ATP #112.
In 2019 he reaches semis in ATP 500 Rio and ATP 250 in Sao Paulo and moves on to reach his first final in ATP 250 in Houston. He qualifies into ATP Masters 1000 Rome and reaches third round. In French Open he reaches third round were he loses to Federer.
Moving on to the hardcourt he reaches the quarterfinal in St Petersburg and qualifies to Masters 1000 Paris and to the Nextgen ATP Finals. He ends 2019 as ATP #54.
In 2020 he starts the year in ATP Cup in Perth by beating Isner (ATP #18) and Fognini (ATP #12) breaking into top 50.
In the South American swing he wins his first title in Buenos Aires ATP 250 and becomes the first Norwegian to win an ATP title and he reaches his career high of ATP #34 and the highest ranked Norwegian player in history.
Ruud has a career-high singles ranking of world No. 2, achieved on 12 September 2022, making him the highest-ranked Norwegian in history.
---
Casper Ruud's Family 
Ruud is the son of former professional tennis player Christian Ruud.
Father, Christian, is his coach and achieved career-high No. 39 on ATP Tour. Mother, Lele Catharine. Casper Ruud has two sisters, Caroline and Charlotte. He grew up in the Snarøya district of Bærum, with Rafael Nadal as his tennis idol.
He is Top-ranked tenis player in Norwegian history. He is 6 feet and his weight 77 Kg. If he wasn't a tennis player, he would be a pilot according to ATP bio.
Casper Rudd Likes eating Thai, Japanese and Italian food, as well as steak.
His social media accounts are here Twitter Instagram Facebook
---
Casper Ruud's girl friend
Casper Ruud's girl friend's name is Maria Galligani.
Casper Ruud has been dating his girlfriend Maria Galligani since 2018. Over the years, the young couple, both of whom are from Norway, have traveled all over the world together for Ruud's tournaments, and Galligani has been right by her boyfriend's side as he has climbed the world rankings.
Galligani seems to be close with Ruud's family, including his sisters, Caroline and Charlotte. She has sat with them in Ruud's family box at many tournaments and has posed for photos with the family after his wins.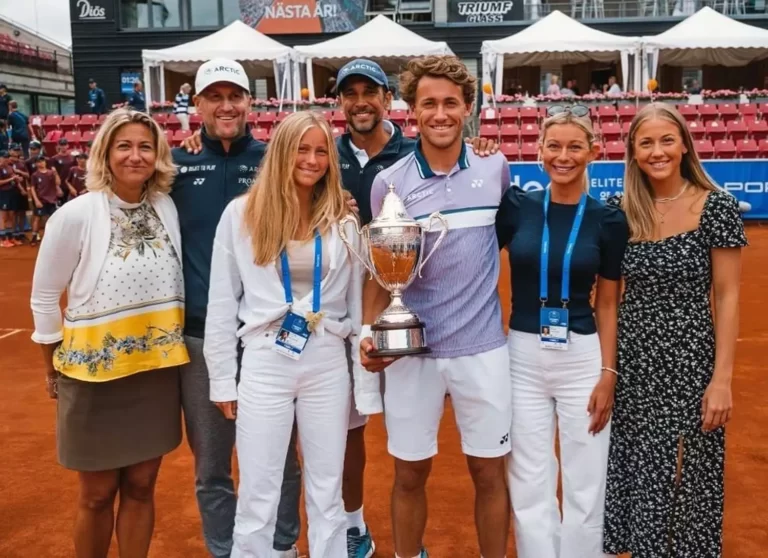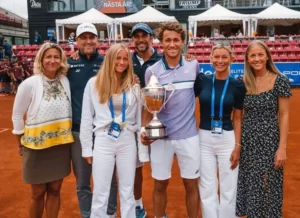 If you really like this information, like and share with your friends
Source : (ATP and CR) with Wikipedia